"All of the equipment and financial support has made it possible to help kids in Rivas. Without Helping Kids Round First, it wouldn't be possible for my players to reach their dreams."
Coach Johnny Alvarez - Working from a Dream Academy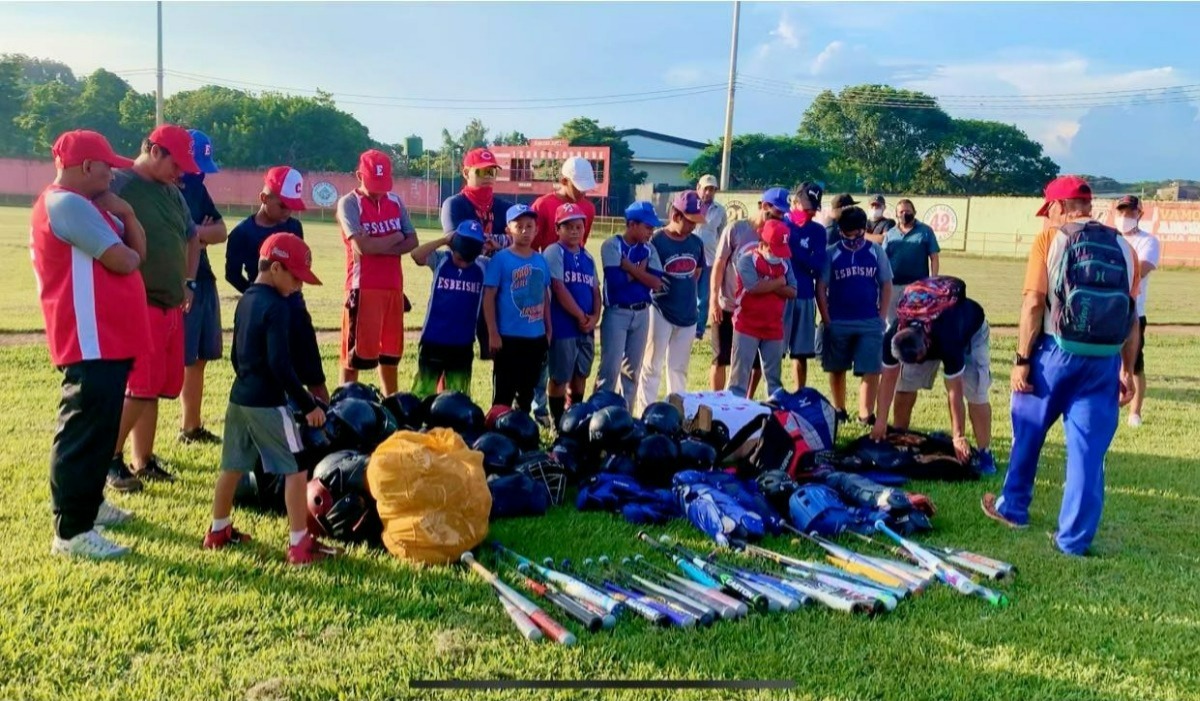 Nicaragua is baseball crazy. Every Sunday communities gather to play, it's the break in their hard week. The problem was games were played with large branches and rocks.
If a community is lucky enough to have a baseball it would need to be sewed between Sundays to have it ready for the games.
All this started in 2009 Craig's son Beau brought the first bags of equipment donations.
Countless bags of equipment continued to be delivered by delegates in Nicaragua on individual trips until 2016 when the Helping kids Round First first annual ocean container.
2016.
1ST SHIPMENT
In the spring, our first ocean container shipment of baseball and softball gear arrived in Managua. Over 18,000 pounds of equipment was distributed to over a thousand children in dozens of communities across Nicaragua.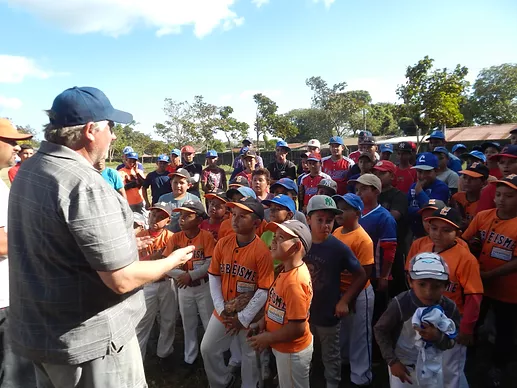 2017.
2ND ANNUAL SHIPMENT
Helping Kids Round First shipped their second annual ocean container of baseball and softball equipment containing over 19,500 pounds of bats, balls, gloves, and other gear!

2018.
1ST TRIP TO THE CARIBBEAN COAST
We delivered equipment to 12 teams in Bluefields and Big Corn Island, they were given 1400 balls, 150 uniforms, 120 hats, 100 gloves, 100 bats, 90 helmets and more!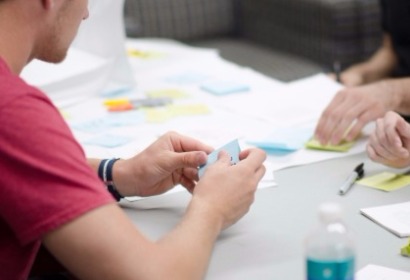 2021.
START OF THE MLB-RBI PROGRAM
FIND OUT MORE

The inclussion of the teams sponsored by HKRF have now the chance of being included into the mainstream game and major leagues, by increasing the number of talented athletes prepared to play in college and professionally.
2022.
REGIONAL TOURNAMENT AND RBI WORLD SERIES
We managed to have two amazing opportunities to take a Nicaraguan team to Puerto Rico and Florida so they could have a full MLB Experience!
Read More
2023.
We started the year with a bang! So far we have done a complete trip to deliver an entire container of Sports Equipment to the most rural communities in Nicaragua.
In June, for a second year in a row we had the opportunity to take the Nicaragua baseball team from the Working for a Dream Academy! The boys gave an amazing performance at the Nike RBI World Regional Tournament against Puerto Rico, Dominican Republic and US Virgin Islands, but lost their chance to go to the World Series being beat by Curacao.
find out more
Improving lives through baseball
Every year we bring baseball equipment and provide instruction to youth in rural Nicaraguan communities. Baseball has a unique ability to both bring together different cultures and teach life lessons helping to provide a foundation on which to improve lives.


ADDRESS
23075 SD Hwy 13, Flandreau, SD 57028

(605) 864-1341


FOLLOW US
© Copyright 2023 Helping Kids Round First